How often do we realize that a restaurant we go to for lunch actually has a nice decor?
Do we even see what surrounds our lunch table any more? I think that in today's fast paced world we tend to just take an hour long break and rush to a lunch place to grab some quick food. We mostly end up having an ok lunch for almost exactly the same price – around $10 per person in the Washington DC area. If the price for a lunch is artificially maintained at the same level no matter the cuisine, why would anybody care to put some extra attention into decor to make a restaurant any different or nicer than the others? So, all the lunch places in the area look more or less the same, lacking personality.
I think it takes away so much from our dining experience. Pushing out local business and growing domination of chain restaurants is part of the reason. That's why it is important to point out chain restaurants that actually stand out against the crowd and put some extra effort to create a nice ambiance for dining. Nando's Peri Peri is one of those places.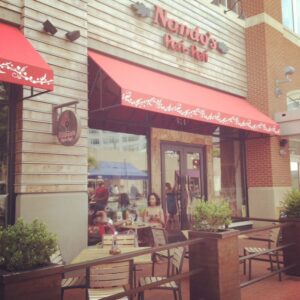 I have been to the Washington, DC and Silver Spring locations of this international chain. They carry a common African theme presented in contemporary manner yet the decor details are slightly different. The furniture layout is always unique to each place with booths and nice oversize tables that can accommodate larger groups. There are different clay pots with exotic wood limbs. Sculptural pendants create accents and set the mood. Colorful paintings on the walls are original!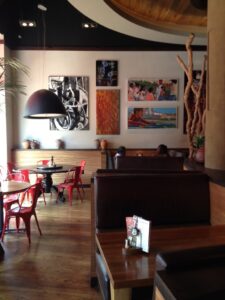 I love how the unique flavors of this South African cuisine were translated into the color schemes. Warm shades of reds and oranges used in paint, chairs color or artwork represent a signature spice – Peri Peri (red pepper in Swahili). Bold wall finishes with reach texture (photo below) make me think of an African desert. The food is very tasty, but an interesting and unique decor makes it easy to pass on many other restaurant options in the area and return to Nando's.