One of my recent projects took me to a few local stores to carefully inspect their table selection. I did my research and selected five "fearless" tables that met my five basic criteria:
1. To be equally beautiful and practical.
2. To be stable enough to support me when I want to stand on top of it to change a bulb in a light fixture above it.
3. To have a durable surface so that I am not afraid to destroy it by using warm plates and sharp objects on it.
4. To be universal enough to be used both in a dining room or a kitchen.
5. To have an interesting design that it could stand on its own in an empty room and still be fearlessly beautiful.
Presenting five "fearless" tables:
1. Beautiful and sculptural Cross Extension Table designed by Matthew Hilton, sold by Design Within Reach. Made of a solid oak base and an oak veneer top. The Cross table can go with matching chairs in Scandinavian style or some plain slipcover chairs. $3,500. Available in Oak: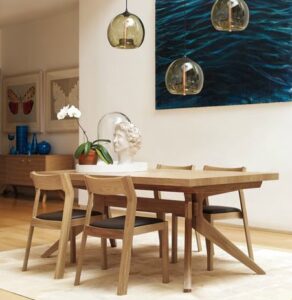 Or in Venge: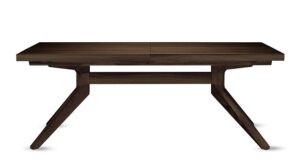 2. Beautiful in its simplicity
Dakota Table
from Crate and Barrel is reduced to a large sanded plank of oak wood based on four smaller planks serving as supports. The European oak has a sophisticated shade of gray achieved by "fuming" – a technique of changing the color of wood without staining. Dakota table can be paired with almost any kind of chairs. Starts from
$1,399.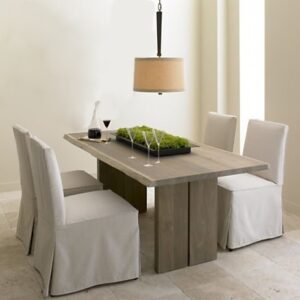 3. Built from solid French oak the Mendocino Table from Wiliams and Sonoma is modeled after a carpenter's workbench. The visible mortise-and-tenon joints reveal the honest origins of the table and create interesting accents.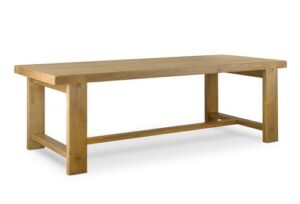 Mendocino table comes in a warm honey-hued hand-rubbed beeswax finish. The table can complement both traditional and contemporary decors.
Yours for $
2,250.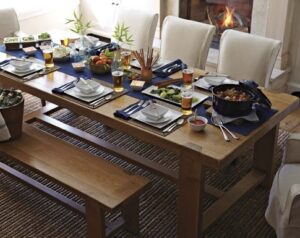 4.
Parsons Reclaimed Russian Oak Dining Table from Restoration Hardware is the ultimate rustic choice.
It is handcrafted of solid white oak timbers reclaimed from old buildings in Russia. Free of any ornamentation or finish this simple and honest table can be used best in contemporary interiors filled with metal, glass and plastic finishes. From $2,495.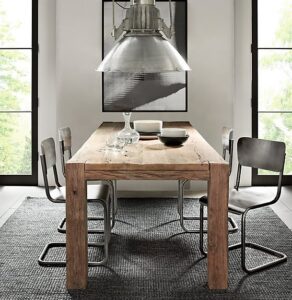 5. And finally a round option from Mitchell Gold & Bob Williams. The Townsend Table is made of stainless steel and tempered glass. As MG&BW best describe it can be a star without taking over a room. It is perfect for smaller rooms and for apartments, and surprisingly enough it can go both with contemporary and antique furniture pieces. Seats four for $1,370.