Let's talk wallpaper, and I don't mean old fashioned overwhelming dark wallpaper that covered entire interior walls of Victorian homes. I mean contemporary wallpaper with funky designs and interesting textures. We don't want them to cover the whole room any more, we just want a small taste of it, simply to set the mood.
I love using wallpaper on small areas, on accent walls or on those architectural elements that stick out (walls that cover fireplace chimneys) or inside the nooks. Wallpaper draws attention to those bumps or hollows in the walls and give them new significance and character.
I like the wallpaper with repetitive patterns in particular. They cannot be produced by faux painting as the repetition requires absolute precision. The wallpaper shown below and hand made by an English based company (www.handmadewallpaper.co.uk) is inspired by graphic art and printmaking.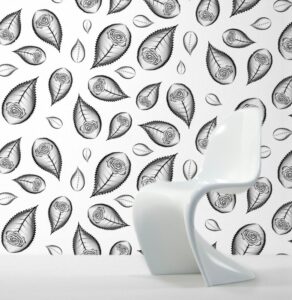 The black pattern on white background looks sharp covering an accent wall while the other walls remain white. It could work both with sleek contemporary furniture and in more traditional homes filled with antiques. The wallpaper by Dunford Wood below shows another version of an iconic chevron pattern. It works great in small areas like narrow hallways, staircases or powder rooms. Warm and faded color creates an interesting background both for antique and more contemporary furniture.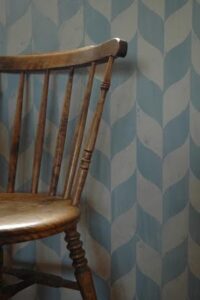 If your room is in a desperate need of color you may want to get a roll of two of this beautiful wallpaper hand made by the Paris based company Minakani (shown below). I would use it only as an accent on one wall or inside a nook. It can be used in residential and commercial settings adding warmth and interest to any area with no need for further accessorizing.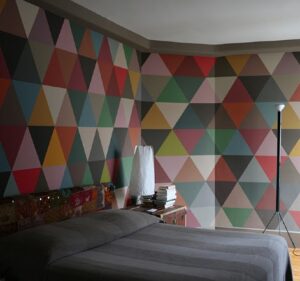 Commercial spaces are great to test some more funky wall coverings. This textured wallpaper by British company Beware-The-Moon features a repetitive golden Ostrich pattern on a navy blue background. It adds warmth and interest to a restaurant setting.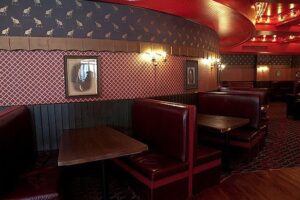 Another textured wallpaper by the same boutique company features a velvet skull pattern on the oil slick background.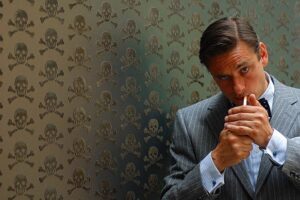 Maya Romanoff also creates unique textures like this one shown bellow which is hand made of Nepalese lotka paper with flecks of mica. It works great on accent walls in hotels or apartment building lobbies.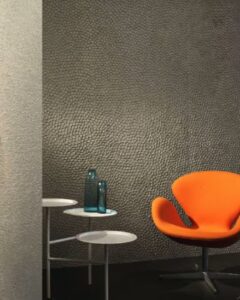 Hand made wallpaper can also come in eco-friendly additions that are perfect for kids rooms. This non-toxic wallpaper by Paperboy is inspired by the ancient art of shadow puppetry and features screen printed animal shapes.